Manga Collection:
あにいもうと

(Ani Imouto)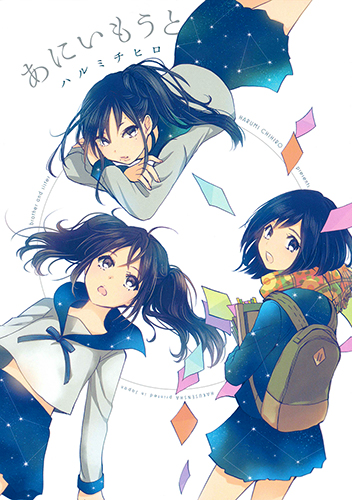 A collection of oneshots.
Chapters
Chapter 1: "Girl Friend" (Gaarufurendo)

The handsome Ueno enjoys playing around at her girls' school. When she sees Ueno, recently injured from sports, she tries to cheer her up, but can't break through…

Chapter 2: "The Wrong Kind of Love" (Machigatteiru Koi)

Kana knows her boyfriend Yao cares deeply for her, but she can't bring herself to tell him about her desires.

Chapter 3: "Big Brother, Little Sister" (Ani Imouto)

Rio-chan must face the sudden appearance of her beloved brother's previously unannounced fianceé, as well as the onset of her first period.

Chapter 4: "Big Brother, Little Sister after" (Ani Imouto after)

Now in high school, Rio-chan visits her new nephew, Takkun.

Chapter 5: "Once Spring Comes" (Haru ni nattara)

Kiyoshi lets his cousin Hina come over to study, and seeing her working diligently towards her future, wonders what his own goals in life are.

Chapter 6: "Glitter" (Kirakira)

A woman finds unexpected comfort in a lover's words.

Chapter 7: "Don't Stop the Night after"

A short follow-up for the oneshot "Don't Stop the Night".

Chapter 8: "The Witch's Daughter" (Mahoutsukai no Musume)

Chikako wishes to get closer to her boyfriend and childhood friend Kaito, but due to a spell placed on her by her mother, anyone who touches her with ulterior motives will have something awful happen to her.

Chapter 9: "Someone Cute" (Kawaii Hito)

Tsubame is jealous of how Kaname is better than her in every aspect, and decides to make Kaname meet his idol (and her coworker) Iwaaki, despite his protests.