Manga:
放課後コラージュノート

(Houkago Collage Note)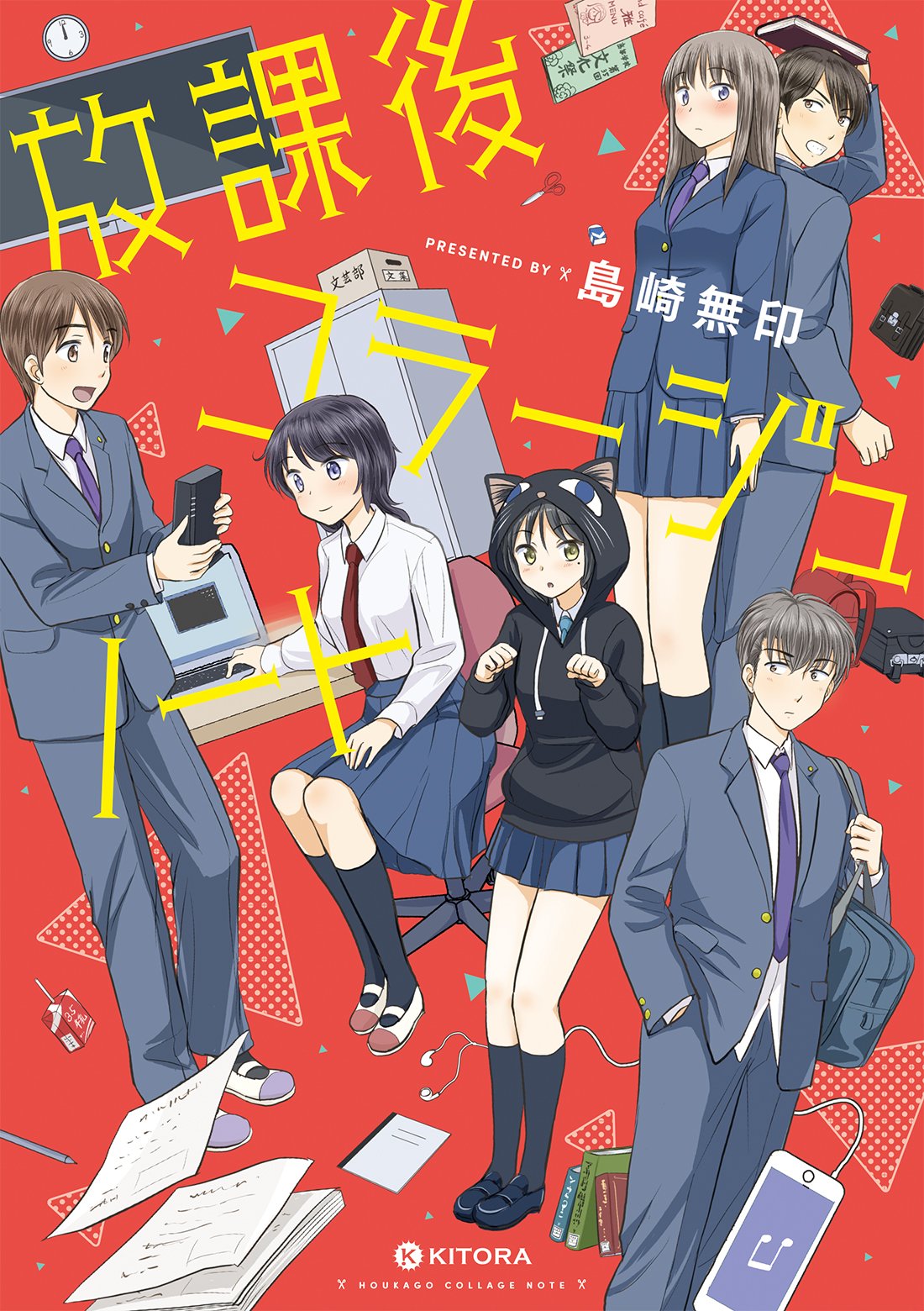 Summary:
You were my youth. A collection of heart-pounding short comics from Twitter.
A new work by SHIMAZAKI Mujirushi of Otome Danshi ni Koisuru Otome! The girl who's clumsy with love and the dense boy who doesn't recognize his true feelings of wanting to be his girlfriend's knight; two classmates who can't be honest with each other due to their height difference; the boyfriend who gets KO'd by his taciturn tsundere girlfriend, and more; all these heart-pounding stories in the midst of youth are collected here. These stories posted on Twitter with the hashtag #houkago collage note have been redrawn, and moreover, each story has had an ending episode added.
青春って君のことだった。Twitterで話題の胸キュンショートコミック
『乙女男子に恋する乙女』で話題の島崎無印、最新作! 恋に不器用な女子と彼女のナイトを自認するもその本心に気付かない鈍感男子、身長差が気になって素直になれない同級生、無口系ツンデレ彼女にKOされる彼氏など、青春ド真ん中の胸キュンストーリー満載の作品集。Twitterに「#放課後コラージュノート」のハッシュタグで投稿された内容を清書し、さらに各物語の結末となる描き下ろしエピソードを追加しています。
Chapters
Prologue
Chapter 1: "Kouhai Worries Senpai is Way Too Soft"

Episode 1: "Kouhai-kun Wants to Protect"
Episode 2: "A Missed Chance"
Episode 3: "Revenge"
Episode 4: "When Talking With Dad"
Episode 5: "When Living With Mom"
Episode 6: "The Two of Them, After School"

Chapter 2: "Nekokaburihime: The Princess Feigns Innocence"

Episode 7: "On the Subject of My Girlfriend"
Episode 8: "You Blush, You Lose"
Episode 9: "Miss-Can't-Communicate Stakes Her Claim"
Episode 10: "Palmtop Moon"
Episode 11: "Let's Talk It All Through Together"
Episode 11.5: "Please Call Me By My Name!" (Unserialized chapter from Twitter)

Chapter 3: "The Melancholy of the Tall Maiden"

Episode 12: "The Difference Standing on Tiptoe Makes"
Episode 13: "Comrade-in-Arms"
Episode 14: "Just An Idiotic Way of Doing Things"
Episode 15: "Our Growth Period"

Secret Chapter: "The Story of a Certain Couple"
Chapter 4: "The Four Seasons"

Episode 16: "Beneath the Cherry Trees"
Episode 17: "The Sea Seen in Spring"
Episode 18: "In the Rainy Season"
Episode 19: "Clouds of Early Summer"
Episode 20: "Blues of Summer"
Episode 21: "A Late Summer Evening"
Episode 22: "The Skies of Autumn"
Episode 23: "All Day in Late Autumn"
Episode 24: "The Wind in Winter"
Episode 25: "A Flower of Early Spring"

Bonus: "Her Tail Says It All" (by Niichi)