Manga Recommendations
by Rakka • Tags: manga recommendations list
NO LONGER UPDATED. See the new list.
Some manga recommendations, categorized by general "feel". The divisions are fairly arbitrary and many of the series could move between sections easily.
Keep an eye out for updates; I've left out entire categories for this initial update.
Also see the Yuri Manga List at The Yuri Empire.
Updated 2022/09/05 with Kimi no Ashiato wa Barairo.
Updated 2022/07/21 with The Gift of the Magi and Tokyo Tarareba Girls.
Updated 2022/07/20 with After School Mate.
Updated 2022/06/29 with My Monster Secret and demoted The Villainess Turns the Hourglass.
Updated 2022/06/25 with Bocchi na Bokura no Ren'ai Jijou.
Updated 2022/02/23 with The Makeup Remover.
Updated 2022/02/05 with 5 Seconds Before a Witch Falls in Love, See You Tomorrow at the Food Court, and Spirit Circle.
Updated 2022/01/16 with Ore ga Watashi ni Naru made.
Updated 2022/01/04: reorganized, and descriptions improved.
Updated 2022/01/04 with Life Lessons with Uramichi Oniisan and Nan Hao and Shang Feng.
Updated 2021/12/16 with Monthly Girls Nozaki-kun.
Updated 2021/10/30 with Hana wa Nisemono.
Updated 2021/10/10 with The Golden Sheep and Kodomo no Kami-sama.
Updated 2021/09/18 with Like Wind on a Dry Branch and Your Throne.
Updated 2021/09/09 with Onanie Master Kurosawa.
Updated 2021/08/30 with Ossan Akuma to Koakuma-chan.
Updated 2021/08/27 with Sumikko Futari no Natsuyasumi.
Updated 2021/08/08 with Mi-chan and Airi.
Updated 2021/07/27 with Aoi Tori ~Wakuraba~.
Updated 2021/06/24 with Nanase-kun's Vocation.
Updated 2021/05/16 with I Think Our Son Is Gay.
Updated 2021/05/08 with O Maidens in Your Savage Season.
Updated 2021/04/16 with This Witch of Mine.
Updated 2021/04/04 with Stripping the Flesh.
Updated 2021/04/03 with I Had That Same Dream Again.
Updated 2021/02/18 with The Ancient Magus Bride, Soulmate, Death's Game, The Apothecary Diaries, and The Villainess Turns the Hourglass.
Updated 2021/01/31 with Three Years Apart.
Updated 2020/11/27 with Cheating Men Must Die, Destroy All Humankind, and Flying Witch.
Updated 2020/11/14 with My Broken Mariko and Sweetness and Lightning; linked to the light novel for Three Days of Happiness
Updated 2020/11/02 with Half & Half, Wakusei Closet, Wizard's Soul, and Akatsuki no Yona.
Updated 2020/10/04 with Hoshi to Tabisuru.
Updated 2020/09/13 with Hoshi Mamoru Inu.
Cute & Comfy #
Warm, fluffy, romantic and/or comedic stories that don't necessarily have much plot or progression. My favorite in this category is Tsurezure Children.
5 Seconds Before a Witch Falls in Love #
Summary from Seven Seas Entertainment:
A magical enemies-to-lovers yuri romcom!

Solitary witch Meg likes to be mischievous and make trouble in the forest for her nemesis, Lilith the Witch Hunter. But when an altercation goes sideways and Meg turns Lilith into a cat, a cascade of unfortunate events means witch is now responsible for saving witch-hunter! Sparks were flying between these antagonistic ladies before–what will their relationship be like after this cat-astrophe?
A collection of three oneshots. Two deal with a witch and a witch hunter who are going at it, while one follows a modern-day girl who can see the supernatural and helps out an angel and a demon. All three stories are adorable, and of course I'm a sucker for anything featuring witches. Be warned that the collection does play a little fast and loose with consent over kissing.
First Comes Love, Then Comes Marriage #
A full color slice-of-life series about a recently engaged couple, showing all those little moments in a couple's daily life. There's no drama and things are fairly down-to-earth, though that also means there's not really much of an overall plot—think of this one as a series of standalone vignettes to enjoy.
Flying Witch #
A relaxing slice-of-life following Makoto, a novice witch who moves into rural Japan to complete her training. This one has more of an overarching plot; enough happens to keep things interesting and to prevent it from feeling childish, but it never gets out of hand or veers into drama, and it's nice to see the little details of how magic gets integrated into an otherwise "normal" life.
Hanging Out With A Gamer Girl #
Kaoru's meets up with his online friend Nanami, who doesn't know he's actually a guy in real life (as he always plays a girl in games), and likewise, Kaoru doesn't know Nanami was actually a girl. After their initial shock, since Nanami already told her parents she was inviting a girl home, Kaoru agrees to dress up as a girl…
While there's a little bit of romantic progression in this series, the focus is mostly on Kaoru slowly helping the extremely shy Nanami break out of her shell, using the crossdressing to help her feel more comfortable. Hence, there's more of an overall plot here.
Hyakunichikan!! (100 Days!!) #
Shuto, a high schooler, is suddenly told by his parents to take care of Chiho-chan, the five-year-old daughter of a colleague of theirs, while they go overseas on a business trip. While initially Shuto has no idea what to do and Chiho is reluctant to get near this stranger, they do manage to get along, and by the end they're completely inseparable as they become, essentially, siblings.
I Think Our Son Is Gay #
A sweet slice-of-life series from the perspective of a mother who realizes her teenage son is probably gay and does her best to support him without giving it away. While of course the series focuses on his situation, it doesn't overdramatize it; really, this is the story of a caring mother watching over her typical son, who just happens to likely be gay, struggling through the same things all kids his age go through. There's not much of an overarching plot so far, so you can treat this as just little slices of a family's life.
Kanojo to Kanojo no Neko (She and Her Cat) #
A one-volume manga adaptation of an early animated short from SHINKAI Makoto, director of the hit films Your Name, Weathering With You, and Five Centimeters Per Second. The story follows the life of a young office worker from the perspective of her cat, who can't understand her words, but supports her regardless through her struggles with work and life. From unwelcome suitors to uncertain feelings about family to past friends, we witness a few scenes of Miyu's life through the eyes of her cat.
This manga lacks the visual splendor and dramatic romance of Shinkai's other works, but retains that same sense of connection between two individuals, this time between a cat and his master. It's definitely worth a read for its new perspective, and for dealing with the struggles that newly minted corporate adults face, a change of pace from the usual grade school stories.
Life Lessons with Uramichi Oniisan #
A comedy series about Uramichi, an actor on a children's TV show who is…deeply unsatisfied with his life and job, and yet works hard to do his best for the kids. The series is the definition of painfully funny/relatable, and it's a rare look at what adult life is like in manga/anime.
Machida-kun no Sekai #
A warm, comforting look at life through the eyes of Machida-kun, a boy who helps and loves everyone around him. He may not be gifted academically or physically, but he's patient and caring, and those around him adore him, too. The series doesn't quite have a plot, being mostly an exploration of Machida's relationships with and effect on the people he knows, so you'll find this a calming and relaxing read. There's also a little bit of romance, though it's not the main focus at all.
Madoromi-chan ga Iku (Go! Go! Madoromi-chan) #
A cute slice-of-life about Madoromi, a young girl with horns, and Taichii who takes care of her. Similar in feel to Yotsuba&!. There's pretty much no plot in this story, just lots of hijinks that come from raising a child (that happens to have horns, for some reason).
Majo to Neko no Hanashi (The Story of Witches and Cats) #
A short fantasy series following four teenage witches as they summon their familiars, and how those witches and their cats help each other grow into their roles and prepare for what comes next in life. Has a bit of a Kiki's Delivery Service vibe, down to the talking cats and general style.
Mi-chan and Airi #
A sweet story about an overworked office lady, Mi-chan, who one days picks up Airi, a witch sleeping on the street. Airi may not be the world's most competent witch, but their sudden cohabitation breaks both of them out of their shells and helps them face life.
Monthly Girls' Nozaki-kun #
A 4-koma (4-panel comedy) romance that is consistently, hilariously funny while also being a enjoyable peek behind the scenes of what it takes to be a manga artist. Chiyo Sakura, a high school student, confesses to her blunt classmate Nozaki, not knowing he's actually a shojo (girl's) manga artist. Of course, he misinterprets it as a fan of his manga coming to ask for his autograph and hands her his signature instead. She then joins his cast of assistants (who are also fellow classmates) and gets pulled into their hijinks (and Nozaki's constant search for new plot material).
Not very heavy on the romance, but absolutely killer on the comedy.
南号尚风

(Nan Hao and Shang Feng) #

A comedy series about a group of teenage boys in school and at home. There's no overarching plot (though there are recurring gags), but the series hits a nice balance of nostalgia, relatability, and just pure wacky comedy (for instance, the author is fond of hiding things like people with animal heads in the background of panels). The (fan) translation does lose a little something, so if you can, try to read it in the original Chinese.
一天

(One Day) #

One Day is a collection of stories about chance meetings of people in a city: a bookshop employee and a random traveler, who wish they could meet again; a tomboy and the classmate she has a crush on; and an office worker, struggling to move on after being dumped by her boyfriend. While short, you'll find a peaceful, relaxing reflection on the coincidences and choices we face in life.

Also a nice way to practice your Chinese reading skills.
See You Tomorrow at the Food Court #
A series featuring two unlikely friends (a fashionable gyaru and a straitlaced serious girl) chatting at the food court. No drama, no stakes, no real plot—just them talking about whatever they happen to be talking about. It's only one volume long, so the premise doesn't overstay its welcome. And as a bonus, the author draws some pretty funny faces.
すみっこ二人の夏休み

(Sumikko Futari no Natsuyasumi) #

A cute slice-of-life series featuring a Japan-obsessed foreign student, Serina-chan, and a quiet girl who's always reading in the corner of the classroom, Kaho-chan. When summer vacation starts and neither of them have plans, by chance they catch each other's attention and make plans to go visit the ocean together. Overall, it's a short and sweet series about two misfits finding confidence in each other's friendship.
她们的故事/SQ:从你的名字开始

(Their Story; Tamen de Gushi; SQ: Begin W/ Your Name!) #

The story of the budding friendship and romance between Sun Jing and Qiu Tong. Another slice-of-life comedy series; the romantic progression falls off a cliff after some point (usually blamed on either Chinese censorship, or an overly conservative publisher), but the enjoyment from their daily high school antics remains.

One volume is availble for purchase in Simplified Chinese (physical) and Japanese (eBook, DRM; physical).
These Two Will Be Married in 100 Days #
Part of a "100 days" trend that emerged in 2020 where an artist would post a short comic on Twitter for 100 consecutive days. This follows a recently unemployed salaryman and an idol who meet and get married within the 100 days. Given the timeline, this story has the fastest plot progression you've ever seen, as well as lots of cute flirting.
From the same mangaka as Tonikaku Cawaii below.
Three Years Apart #
Moments from the married of life of Kazu-kun and Mizuki, childhood friends three years apart in age, with their son Naoto. No drama here—just a relaxing story of their daily life mixed with flashbacks of their childhood and their romance, along with the occasional tale of those around them.
From the same mangaka as Otome Danshi ni Koisuru Otome below.
Tsurezure Children (Tsuredure Children) #
A 4-koma (4-panel comedy) series following the hijinks and troubles of several couples at school. With the number of couples, keeping track of everyone can be difficult, but you'll appreciate the rapid-fire comedy and the range of relationships and characters on display—there's something for everyone, and ultimately everyone is adorable, from the "love master" going around helping other couples while running from his own romance, to the girl who plays guitar only with a mask on in order to hide from her overbearing and traditional family.
Also partially adapted into an anime short.
Romance #
Slightly more serious stories with actual progression, that are still overall happy/warm. I absolutely adore every story in this category.
Bocchi na Bokura no Ren'ai Jijou #
A quick and short romance between two students who initially want to have nothing to do with each other. The fun thing here, like Bonnouji right below, is that the romance feels more down-to-earth and less fairytale-like. Our two romantic leads fight and make mistakes, and there's no grand entrance or fateful declaration of love. If only it were a little longer…
Bonnouji #
A chance meeting brings together two residents of the same apartment complex, Ozawa and Oyamanda. Ozawa takes an interest in the eccentric (and somewhat of a loner) Oyamanda, and the two of them begin their friendship.
Read this for: a warm story of actual adults getting into an actual relationship, with reasonable worries and no melodrama.
Dame na Watashi ni Koishite Kudasai (Please Love the Useless Me) #
Shibata, lacking a job, bets everything on her romance with a younger man, sacrificing even meals to buy him clothing and accessories while her savings slowly dwindle. One day, she finds out he was never actually interested in him in the first place. Struggling to find a job, she bumps into Kurosawa, a former manager of hers that she used to dislike, who offers her a place to stay and a job in his café.
The best reason to read this series: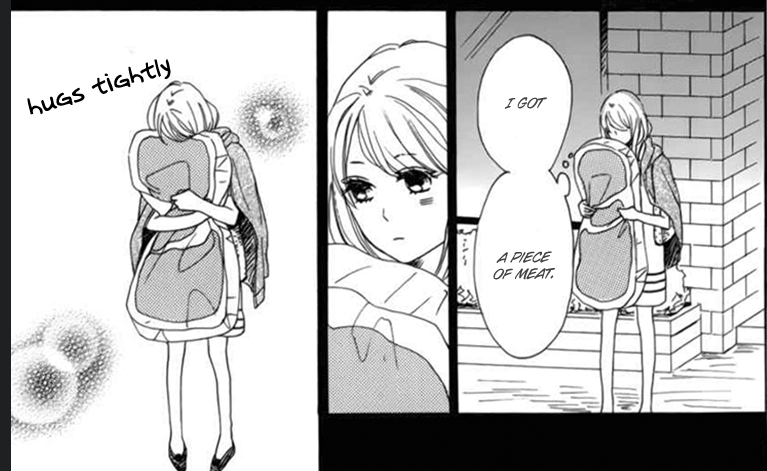 In all seriousness, DameKoi stands out for character development—we get to see Shibata develop her own confidence and skills, while she tears down the wall around Kurosawa and grow closer to the person inside, not the manager she used to fear.
Futari Ashita mo Sorenari ni #
Another slice-of-life romantic comedy, this time focusing on a couple in their twenties who have moved in together. This one is more down-to-earth and focuses mostly on comedy; there's slow but steady progression in their relationship over time.
Hana wa Nisemono #
Note: slightly NSFW content.
A one-volume series about a gay couple where one of the two wakes up one day as a girl; while they remember Ayumu as a guy, everyone else remembers them always being like this. The volume explores their relationship and the consequences for a bit—nothing deep, but this romance will catch your interest for being off the beaten path.
Hosaka-sensei no Ai no Muchi #
An endearing story about an nursery teacher with a scary face, and the senior teacher who helps her overcome her shame over this. There's lots of fluff as she deals with the kids, and romance as Kawai-sensei learns from Hosaka-sensei, but there's also more serious topics as the teachers do their best to protect—and nurture—their students.
How Do We Relationship? #
A yuri romantic comedy about two college students in a band. This series has a little more drama; Miwa is rather shy and working on coming out fully, while Saeko has no shame and has to adjust to Miwa's pace. It's still a fun & funny read, and as they're in quite a different stage in their lives and relationships, Saeko's and Miwa's relationship is interesting to follow even if you feel overloaded on slice-of-life romance manga by now.
Kase-san and… (series) #
A yuri story about the quiet greenery committee member Yamada and the cool & popular track star Kase. There's lots of personal growth for both characters, and while there's some drama, it remains low-key; overall, it's a pleasant, happy read.
Also see Okazu's review. Also has an anime film adaptation. While listed under "completed", there's a continuation story being published, Kase-san and Yamada.
Kimi ni Todoke: From Me to You #
A shoujo classic, Kimi ni Todoke stands out since the main couple get together relatively early, instead of leaving you hanging. You'll also enjoy the rest of the cast, who don't get in the way and have their own lives and developments.
Kimi no Ashiato wa Barairo #
Two childhood friends, Haruka and Takumi, swap bodies after falling down the steps of a shrine. Now they live as each other, searching for a way back. A relatively short story about the challenges and developments of puberty, as well as what it really means to "be a girl" or "be a boy".
Last Game #
Wealthy and accomplished Yanagi has never been bested academically or socially, until the plain Kujou transfers to his elementary school and begins beating him in grades and in sports. He makes it his goal to beat her, but ends up falling in love with her instead, following her into high school and college. Finally, he realizes he's actually fallen for her…
If you want to see the guy being tsundere and the girl being as dense as a bag of bricks, this is the series for you. It remains fairly comfy, without massive drama (but still enough conflict to keep things moving).
My Monster Secret #
A wacky harem rom-com with a lot of redeeming features, though also important negatives.
High school student Kuromine Asahi is the kind of guy who literally cannot tell a lie.Whether it's trying to maintain a poker face in a simple game of cards, or keeping scurrilous gossip to himself, Asahi is a total failure when it comes to the art of deception.

So what happens when he stumbles upon the most shocking secret of his life? When Asahi learns that Shiragami Youko, a beautiful girl of few words, is actually a vampire. Can Asahi possibly keep his lips sealed?
Let's get the negatives out of the way: there's a recurring homophobic joke where one of the side characters falls for/assaults who he believes to be a woman, only to find out that they were a man. If that's (quite reasonably) a dealbreaker, then give this a pass.
Also, the art (especially in the first couple volumes) is very rough.
Now, unlike similar series like Nisekoi that feature a bunch of wacky characters along with an earnest but mostly plain male MC: the characters don't revolve so much around the male MC. Jokes and recurring jokes are all quite funny and help highlight each of the characters. While a bit long, all of the characters get a good amount of screentime. The main couple actually gets together fairly quickly, so this is not quite a harem. And somehow, there's a larger, overarching plot that works really well, because it gets the main romance mostly settled quickly, to instead tell a more complex and interesting tale than will-they-won't-they. Incredibly, all of the jokes, character quirks, and wacky situations all play a role in this overarching plot and its resolution. So what would have otherwise been (enjoyable) filler actually ends up being relevant.
Otome Danshi ni Koisuru Otome (The Maiden In Love With The Maiden Boy) #
A heartwarming (you're gonna get that word a lot) tale about Mayu, a girl afraid of men, who falls at first sight for Yuki, a crossdressing boy. Like many manga, this series treats crossdressing fairly lightly—and to be clear, this is not a story about trans women—but there's still a strong message of self-acceptance for Yuki, and an endearing tale of Mayu overcoming her fears.
Soulmate #
Yu Qi wakes up one day to find that her 17-year-old self has switch places with her 27-year-old self. Now the "her" from high school must frantically adjust to life as a working adult and as Yuanzi's girlfriend, without any of the experiences of the past ten years, while the "her" from the future tries her best to take this one chance to save Yuanzi's life from a terminal illness down the line.
Despite the dramatic synopsis, this is actually a charming and upbeat series about forming and rediscovering relationships and romances. While the side cast doesn't get much time, you'll definitely root for Yu Qi in both timelines as she unwaveringly stays by Yuanzi's side.
Taiyou no Ie (House of the Sun) #
House of the Sun is about Mao's struggles with her splintered family and her love for her childhood friend, Hiro. As the name implies, it's warm & comfy series with an adorable cast, and as with many of the series here, it avoids excessive melodrama while still providing enough conflict and trouble to keep things moving and keep you interested. Also, the side characters get real development—the cast feels fully fleshed out, and you'll find yourself caring about everyone, instead of cursing them for distracting from the main couple as is sadly all too common.
Warning: the main couple has an age gap, though the author explains it as based on her own life.
Tokyo Tarareba Girls #
A hilarious but painfully relatable about three thirtysomething women's quests to find love—and frankly, themselves. While dramatic and over-the-top in a really fun way, it's always down to earth when it counts—and when it hurts.
Tonikaku Cawaii (Fly Me To The Moon) #
Nasa, about to be hit by a truck, is saved by a beautiful girl; in the moment, he asks her to marry him before passing out. She, of course, disappears, and he starts work while waiting for her return. One night, she shows up, introduces herself as Tsukasa, and declares herself his wife. The rest of the story is just slice-of-life moments about their married life. While there's occasional hints of an actual plot involving Tsukasa's background, you'll quickly forget all of that while watching them flirt and pout. If all you want is to overdose on cute & funny married couple life, grab this series now. (Of all the married couple series here, this one is my favorite.)
Wotakoi: Love Is Hard for Otaku #
Yet another slice-of-life romantic comedy about working adult couples. What sets Wotakoi apart is the camaraderie of the cast; they really feel like friends and it's easy to get invested in their antics together and cheer them on as they progress through life. Where the characters of many of the other series above are more down-to-earth and low-key, Wotakoi features a cast of strong personalities, keeping things interesting. Also, the characters are weebs (or well, otaku), making them presumably more relatable. I just wish there was one more volume to give everyone a little more of a conclusion.
Zense Coupling (Past Life Coupling) #
Zense Coupling follows four couples now reborn into the modern day, some of whom have their past memories intact. You'll find lots of comedy along with steady romantic progression, as their past life intrudes on their current day, helping them along. The concept doesn't overstay its welcome, and you'll feel fulfilled at the end.
Warning: two of the four couples have an age gap, though it's handled reasonably.
Cooking #
Stories about food and cooking, which may have romance or comedy on the side, but focus primarily on feeding your stomach over your heart. My favorite in this category is Misoshiru de Kanpai!.
Kumika no Mikaku #
A mildly sci-fi story following the alien Kumika, an immigrant to Earth who does not normally need to eat. However, her coworker Chihiro introduces her to food after she falls ill one day, and she begins to explore this entirely foreign landscape. There's some mild romance here, but mostly this series is pictures of food and occasional descriptions of how to cook it.
Later licensed as The Many Flavors of Kumika.
Misoshiru de Kanpai! #
Another cute & comfy childhood friend romance. This time, Yae can't stand to see Zenichirou always eating pre-prepared and instant foods, so she decides to take the place of his mother and try cooking him breakfast. This series also tends to include a recipe with chapters, many of which resolve around miso or miso soup (as the title implies). Romantic development is, however, quite slow.
Shinmai Shimai no Futari Gohan #
After Sachi's father remarries, she finds herself with a new little sister, Ayari, who she doesn't get along very well with…until she discovers her love of cooking. As their parents travel a lot and send lots of interesting foods home, the two of them have lots of chances to experiment and learn. The foods here are a mix of the everyday and the more exotic/advanced, with everything from strawberry milk to foie gras on display. No romance here, of course—just food!
Sweetness and Lightning #
A slice-of-life about a single father, Inazuka, who learns to cook to comfort his young daughter, Tsumugi, with the help of Kotori, one of his students whose family owns a restaurant. Not very much happens here—and the subject of Tsumugi's mother is not really touched upon—but it's a cute story about three people slowly learning how to cook. Like many of the other series in this category, recipes are provided after each chapter.
Tonari wa Nani o Kuu Hito zo #
A fairly simple romance between two college students: Inaba, who's trying her best to have her college debut but who can't figure out how to live alone; and Seto, a reserved but dependable cook who happens to be her neighbor. After setting off the fire alarm one day, Seto comes to help Inaba, and she slowly learns to cook from him while growing closer to him as well. Every chapter includes a recipe that you can try to follow along with, and you'll actually get a romantic payoff to boot!
(Note that there's a sequel that's still ongoing.)
Sad/Emotional #
Sadder and/or yet more serious (and not necessarily romantic) stories. I also absolutely adore every story in this category.
Aoi Tori ~Wakuraba~ #
A bittersweet story about a mother picking up the pieces of her life after a tragic car accident.
Not fully translated; while the mother's story is complete, there is another story included that was not translated.
The Gift of the Magi #
A heartbreaking one-volume story of two people trying to move on from each other, one from above in heaven and one from below on Earth.
The Golden Sheep #
Content warning: Bullying; sexual assault; suicide/attempted suicide
A captivating coming-of-age tale about four friends, reunited after one of them, Tsugu, moves back from Osaka to the Japanese countryside. In the intervening years, her friends appear to have changed completely, from carefree and protective to bitter and mean—or have they? Desperate, Tsugu searches for a solution…
In some ways, this reminded me of Goodnight Punpun, but more condensed, and less soul-crushing. The Golden Sheep is a quick read, but it'll leave a lasting impact—and despite the bevy of warnings up top, there's hope and compassion four our group of four here.
Also includes a short story, Love Letter, at the end.
Hoshi Mamoru Inu (Star-Protecting Dog) #
At times heartwarming, at times heartbreaking, Hoshi Mamoru Inu follows life through the lens of a dog who remained with his master until the very end. The series then continues with a look at various other characters who crossed paths with them along the way.
Hoshi to Tabisuru #
A simple oneshot about a girl with a disease turning her into a gem, and the pauper who vows to save her. (One of the chapters in a collection that is not fully translated.)
I Had That Same Dream Again #
Content warning: self-harm, suicide/attempted suicide
A slightly bittersweet coming-of-age tale featuring a young girl who, seeking to define happiness for a class project, and being somewhat ostracized by her classmates, instead turns to her friends: an aspiring author, a high school girl who she finds cutting herself; an old lady living out her final years alone; and a young woman selling her youth.
Also available as a light novel.
Itsuya-san #
A brief magical realism oneshot that'll nevertheless leave you devastated. Toki hasn't had the best life, taking care of his sick grandmother without his parents in the picture. His school tries to help him out, and he ends up living with the art teacher Itsuya-san and the her relative Kon. Itsuya-san, however, has a bit of magic—she can blow on her drawings and bring them to life—which she uses to help those around her, including Toki and Kon.
I adore the author (Sahara Mizu) and wish she'd get more recognition. Here's to hoping…
Update 2021-10-03: somehow, this got licensed in English as Ms. Itsuya!
Jumyou wo Kaitotte Moratta. Ichinen ni Tsuki, Ichimanen de. (I Sold My Life For 100,000 Yen Per Year; Three Days of Happiness) #
Content warning: suicide/attempted suicide
A young man who has no hopes or wishes in life stumbles on a shop that offers to buy his lifespan, time, or health from him. He decides to sell his lifespan, and has to deal with the consequences. I can't say much else without spoiling the story, but I will say things don't quite unfold like you might expect.
A manga adaptation of a light novel (and by the way, I adore the author too); the light novel is officially available from Yen Press and also worth a read. I'd also file this under "magical realism", though I just use that to mean any sort of magic or supernatural ability that isn't really questioned or acknowledged by the characters.
Kami-sama ga Uso wo Tsuku (The Gods Lie) #
Content warning: child neglect
Another quick oneshot. Natsuru's ignored by the girls in class since he turned one of them down on Valentine's day, but Suzumura, an oft-neglected girl in his class, one day talks to him, and so he learns her secrets.
Koe no Katachi (A Silent Voice) #
Content warning: suicide/attempted suicide; bullying
Nishimiya Shouko, a deaf girl, transfers into Ishida Shouya's class. While at first everyone gets along, eventually Ishida begins to lead the class in bullying her, until she transfers out. The class then turns on him as the ringleader, ostracizing him. Over the years, he's driven to the brink, without any friends or hope for the future, but he decides to try to reach out to Nishimiya one last time and try to redeem himself.
Also has an anime film adaptation from Kyoto Animation, which you should absolutely watch—it does a good job of slimming down the story while leaving the core of what makes it so special intact.
Kodomo no Kami-sama #
A oneshot about growing up and losing your sense of wonder.
My Broken Mariko #
Content warning: suicide; child abuse; sexual assault
After Mariko commits suicide, her only friend left in the world, Shiino, rescues her ashes from her abusive father and goes on a final journey together. Short, painful, but will leave an impression.
Also see a fuller review published on Okazu.
My Girl #
Kazama, a single 23-year-old, leaves work one day to find a girl claiming to be his daughter. He realizes she's the child he had with his past lover, who moved abroad and passed away without explanation several years ago; now his daughter is in front of him, and both of them must try to move on from the person they knew and loved while trying to grow into being a family.
I haven't commented on art so far much, but of all the artists here, the pastels and watercolors of Sahara Mizu stand out the most—especially here.
My Lesbian Experience with Loneliness/My Solo Foreign Exchange Diary/My Alcoholic Escape from Reality #
Content warning: self-harm; eating disorders; NSFW content
An autobiographical look at the author's struggle with working life, self-harm, eating disorders, self-acceptance, and discovering her sexuality. Despite the title, and the notoriety it gained from the author writing about her experience hiring a lesbian escort, the focus of these volumes is more on, essentially, struggling with fitting in and being a good, productive member of society, of which her sexuality is one part.
Also check out NPR(!!)'s recommendation on their best books of 2017 and Erica Friedman's review. A third book in the "series", My Alcoholic Escape From Reality, released in 2021 in English, and a fourth one, My Wandering Warrior Existence, is forthcoming in 2022.
Nanase-kun's Vocation #
A oneshot about a boy trying to find confidence in his work in the afterlife as the ferryman who carries other souls to heaven. While the basic concept of a young man lacking courage is not new, the unusual setting and solid art and writing help this story stand out.
Ossan Akuma to Koakuma-chan #
A oneshot about a high school girl who offers her soul to the devil in return for happiness. At times painful, at times sad, at times happy, it's not particularly complex or deep, but packs more of a punch than it has a right to.
Shimanami Tasogare (Our Dreams At Dusk) #
Tasuku, a high schooler, is terrified that he's been outed as gay at school. Standing on the edge of a cliff, he sees a woman jumping off and instead rushes over to try and help her—but he finds the mysterious Anonymous-san perfectly fine. She brings him to a group of people, all struggling with problems much like his own. Unlike many manga, which depict LGBTQ+ experiences in a fetishistic or overly romanticized way, Our Dreams At Dusk stays grounded and serious, developing a full cast of characters and depicting their struggles without defining them by just one aspect of themselves.
Also check out Erica Friedman's review.
Stripping the Flesh #
Note: NSFW Content
Licensed as To Strip the Flesh.
A oneshot about a trans man's struggles to come out to and be accepted as a man by his father.
"Watashi ga Inakute mo Shiawase ni natte Kudasai" Nante, Fuzaken na ("Please Be Happy Even If I'm Not Here," Don't Screw With Me.) #
A brief reflection of a man's memories of his girlfriend, who one day left him without explanation or trace, after he finally receives her diary and finds out she had passed away after struggling with illness. It's a short, focused tearjerker, yet it develops their relationship quite well in its scant eight chapters.
Action/Drama #
アフタースクールメイト
#
(Title: "After School Mate") A story about a transgender man and his unlikely friend. Roughly translated synopsis:
Family, friends, oneself…Though Rika understands the gender difference between his body and his heart himself, it irritates him that he can't achieve understanding from others. One day, he flees home after a fight with his mother. There, he meets Satsuki, a boy who also is not understood…These two who met by chance stand and fight against the questions that they have been running from—a coming-of-age drama that questions the "self" makes its striking debut!!
What struck me about this one is how grounded it is. Rika's and Satsuki's struggles aren't overly melodramatic or crazy, and all involved (including parents) are generally reasonable…but it's hard to make people understand with just words.
Akatsuki no Yona (Yona of the Dawn) #
Princess Yona, sole heir to the throne, leads an idyllic life under her pacifist father. But when her crush Soo-won murders her father, nearly kills her, and takes the throne, she's forced to flee for her life and seek out the truth behind a prophecy about legendary dragon warriors who might serve her.
Yona's character develops incredibly—from an annoying, spoiled brat to a warrior in her own right, becoming the emotional core and leader of her ragtag band. More than the action or plot, watching her grow is the highlight of this series.
Also has an anime adaptation, covering ~9 or so volumes.
The Ancient Magus' Bride #
The story of Chise, a young woman sold into the service of the mage Elias, who intends on taking her as his apprentice—and wife. While at first glance this may seem like an action series, or something faster paced, it's really more like a slice-of-life, as Chise gets to grips with the limits of what she can and cannot do and meets the various fae creatures that surround her in rural England. Don't get me wrong—there's certainly conflict and you'll definitely won't want to stop reading. But while there's danger in magic, there's also delight, and this series never forgets that. In some ways, you could almost liken this to the manga version of Harry Potter—except instead of the world being in danger, it's a world where magic and its practitioners instead are slowly dying out.1
The Apothecary Diaries #
A tale of court drama and intrigue in imperial China, from the perspective of Maomao, an unwilling apothecary brought into the service of the court by kidnappers. While it may sound serious, it's actually more comedic: Maomao is relatable both because
She wants absolutely nothing to do with all the intrigue around her, and just wants to get back to reading manga—er, playing with poisons,
She's quite perceptive and good at what she does amidst a sea of incompetency, yet she's surprisingly dense in other ways. So you'll get your fill of both drama and slice-of-life.
J-Novel club has the light novel available, which by my reckoning would cover the first three or four volumes of the manga. They list 10(!) volumes of the novel, so let's hope they're translated (relatively) quickly!
Cheating Men Must Die #
A "villainness meta-isekai" about Su Lüxia, an agent of a mysterious System, whose job is to be reborn as various villainnesses in different stories and help them exact revenge and find their happy end (hence, the meta-isekai). Lüxia uses her own wits and charm as well as various power-ups that she purchases from the System to defeat Taoist masters, schoolyard bullies, and of course, cheating men, while decomposing some of the tropes that tend to pop up in these types of works.
Death's Game #
Yijae Choi, after taking his life, comes face-to-face with Death herself, who offers him a punishment: he has to live through the lives of 13 other people who are about to die, experiencing death over and over. But if he can find a way to avoid death, he'll get a second chance and can live out the rest of that person's life. It's a story of rehabilitation, where Choi goes from spending his lives trying to take advantage of them and trying to avoid the immediate obstacle in front of him to where he starts thinking about the future again.
Destroy All Humankind. They Can't Be Regenerated #
A slice-of-life…? following high school fans of Magic: The Gathering in the 1990s. There's some hints at romance, but the main focus is on the card game and the relationships and maturity our two leads slowly develop through their passion for the game. And of course, the card battles themselves are quite intense and entertaining; unlike Yu-Gi-Oh, our protagonist is not a maverick who wins every duel, no matter how good he thinks he is initially, but he learns and grows as he plays more.
Half & Half (NSFW) #
Note: NSFW content
A supernatural what-if story involving two outcasts who die together on accident, and are given one more week's chance at life in order to decide which of them shall continue to live and which will truly die—with the caveat that their emotions and pain will be shared. While a touch melodramatic, it's an interesting scenario.
Like Wind on a Dry Branch #
This series follows the widow Rieta Tristi, who was condemned to being buried alive after the death of her nobleman husband, but is instead saved when the outcast prince makes a surprise visit. It turns out she has abilities of her own as a mage, and as the story unfolds, she starts coming out of her shell—little by little—and using her powers to help those around her, while the prince tries (in vain) to show her what she means to him.
The Makeup Remover #
The story of a plain-Jane college student who gets caught up as a contestant in a reality TV beauty/fashion contest. This series has it all: a broad cast with distinguishing features that don't feel like tired tropes, who each get their own development; healthy messages about relationships, romance, and beauty; and larger-than-life drama that gets you invested without feeling cheap. Even if you don't really care about fashion or makeup, the series does a good job of showing you the industry and what's possible with these tools. And of course, again, it's always nice to get a series about adults instead of teenagers.
O Maidens in Your Savage Season #
The story of a group of 5 girls in the Literature Club who, going through their teenage years, start to wonder about and obsess over sex. While a touch melodramatic at times, their antics constantly had me laughing out loud—and it's refreshing to see a series that tackles these subjects so frankly.
Also adapted into an anime. Note the author is OKADA Mari, the writer of Anohana and director/writer of recent films like Maquia and A Whisker Away.
Onanie Master Kurosawa #
Despite the absurd premise, this actually ends up being a fairly touching coming-of-age story. Kurosawa masturbates onto a classmate's clothes as revenge for bullying fellow loner Kitahara, but she realizes he's the culprit and blackmails him into carrying out her revenge on others. As a bonus, at a short four volumes, this series doesn't overstay its welcome and doesn't waste time on pointless melodrama.
Ore ga Watashi ni Naru made #
Content warning: Bullying; sexual assault
This one's a little more complex. I'll offer my (hasty) translation of the first volume's synopsis (but note that the pronouns here are arbitrary):
よく女の子をいじめていた少年が、ある朝から女の子になってしまいました。
ある日、男の子が朝起きたら女の子になってしまいました。すぐ戻ると思いきや、どうやらその様子はありません。変化する自分のココロと周囲との認識のズレに戸惑いながら、すこしずつ成長していく物語です。
A young boy who often bullies girls, one morning finds himself a girl.

One day, a boy woke to find himself a girl. He thought he would turn back right away, but then it seemed that wasn't the case. Bewildered by the differences in their perception of their transformed heart and their circumstances, this is their story of growing up, little by little.
I'll also offer this phrase from the end of the first chapter:
これは「オレ」が「女子高生」になるまでの話。
This is the story of how I grew from a "boy" to a "high school girl".
Note that I am not trans, and so I can't judge how well the series handles its, well, central topic. To me, I didn't see anything problematic (though note that reading in Japanese, I may have missed some subtleties). Hence, your mileage may vary.
With that out of the way: I see this as a mix of a few things. In part, it's a coming-of-age story that does talk about and address the changes, physical, social, and emotional of puberty. Akira has to find their way, in terms of their relationships with friends, plantonic and romantic. It's also a story of self-identity: Akira initially firmly believes they'll return to being a boy, but over time that changes…and yet the people around them may not see it the same way, or even know about this conflict in the first place. And part of it is a story of a bully having to face their past, much like A Silent Voice here. So overall, there's a lot going on here, and I find it a worthwhile story in how it navigates all these demands of a growing young person with an added supernatural twist.
Spirit Circle #
Summary from Seven Seas Entertainment:
Fuuta Okeya can see ghosts. Besides that—and the bandage he always keeps on his cheek—he's a perfectly normal 14-year old boy enamoured with the new transfer student. Unfortunately, Kouko Ishigami wants little to do with him. A strange ghost that follows her, however, seems to feel quite differently. But, when Kouko sees the strange birthmark hidden beneath the bandage on Fuuta's cheek, she has a change of heart…for the worse. Not only does she denounce him as her enemy, but she claims that the birthmark is a curse she engraved upon his face during one of their many past lives. What happened between Kouko and Fuuta, and what is the connection to the strange, fantastical dreams that Fuuta begins to experience?
A strangely compelling series that builds up the relationship of a group of friends over six past and future lives. While the timeline/continuity gets messy, this isn't the kind of series where it matters—instead, it's how they relate to each other that's important, with each of the six lives giving a different perspective on our main characters and helping build up their "present day".
This Witch of Mine #
An anthology of sorts following the lives of a group of witches as they seek love—but as they're immortal and can transcend time and space, traveling to different worlds and histories, what they seek from their mortal, human partners is rather demanding. A somewhat unusual romance that takes full advantage of its fantasy setting to explore the consequences of that setting, instead of just being "normal high school romance tropes, but she can cast explosion" (ok, well, that's a part of it too).
Wizard's Soul ~Holy War of Love~ #
The cute and thrilling story of a girl who plays a card game—suspiciously like Magic: The Gathering—in order to win a tournament and pay off her family debts. There's minor romance, but it's really focused on the ins and outs of the game.
Your Throne #
Yet another villainess story, except with some welcome twists: there are two villainesses (or rather, a villainess and her foil), and neither of them reincarnated or traveled through time. In other words for once, the main characters don't have knowledge of the future. Yet they're still competent and take matters into their own hands. I'd compare it to perhaps the good parts of No Game No Life or Yu-Gi-Oh where the two characters build on each other's strengths and their trust in each other, as well as their own individual abilities, to overcome long odds—in this case, abusive parents and a scheming prince intent on trying to play them against each other.
Also, I'll give a shout-out to the art, which features some beautiful, slightly crazy eyes for our villainess, the Lady Medea Solon.
Former Recommendations #
These are series that after a revisit, don't hold up, but are still decent.
Boku no Kanojo wa Saikoudesu! (My Girlfriend Is The Best!) #
(Completed) A slice-of-life about an average man and his amazing girlfriend, based on the author's own life. It's lighthearted and mostly comedic, one of several series here that focus on slice-of-life moments from couples who are already intimate and familiar—we get the actual relationship, so for once you won't be disappointed because the story ends at "I love you".
Himeno-chan no Koi wa Mada Hayai (Love Is Still To Early For Himeno-chan) #
(Completed) Fourth grader Himeno has a crush on her classmate Ouji-kun, but can't properly express herself. In this lighthearted series, kids are just kids, and you'll love watching the slightly precocious Himeno and entirely clueless Ouji slowly fumble through figuring out what it means to like someone. Unfortunately, the story ended extremely abruptly when the author was offered the chance to publish a new series.
Hitoribocchi no ○○ Seikatsu #
(Completed) Hitori Bocchi has always had extreme social anxiety. Now that she's entering junior high, her only friend Yawara Kai leaves her, giving her an ultimatum: make friends with every classmate, or they can't be friends anymore. Despite the perhaps dramatic setup, Hitoribocchi is an endearing 4-koma about a girl building up the courage to break out of her own shell, and finding she's more than capable.
Also adapted into a TV anime.
(Note: nearly every character's name is a pun, e.g. Hitori Bocchi is 一人ぼっち, "loneliness", and Yawara Kai is 軟らかい, "soft" or "gentle".)
I'm Nearly 30, But This Is My First Love #
Demoted here for a rather unsatisfying conclusion.
(Completed) Yet another slice-of-life romantic comedy, this time focusing on two couples in their thirties (are you amazed yet?). Weirdly enough, everyone acts more like a grade schooler…because if your first relationship isn't until you're 30, then of course you still have no clue what's going on at all right? That aside, you'll still find this a comfortable read, and this series still gets points for showing the relationship instead of just the buildup (no time to waste!).
Ninja Shinobu-san no Junjou #
(Completed) A slice-of-life about Shinobu, a perfectly average and normal girl, and Hitoyoshi, the classmate who insists she is secretly a ninja. Comedy ensues as Hitoyoshi does his best to expose Shinobu, while Shinobu avoids him and considers her own feelings towards him.
Pseudo Harem #
(Completed) Rin teases her senior in the drama club, Eiji, with a variety of personas from cheeky to cool to tsundere using the power of her acting. You'll get to see every romance personality trope crammed into one story, but you'll also see the two characters manage actual romantic progression of their own.
The Villainess Turns the Hourglass #
One of many villainess stories, following similar tropes (killed and then sent back in time; knowledge of the future, etc.). Where this series stands apart is simply its execution; it's not the most original story, but it's a well-done example of its subgenre, from the art to the characters. And Aria, after restarting, is fetchingly assertive character who opts to intentionally shape the course of events instead of just desperately trying to avoid them. She doesn't try to play at being the better person—just the better schemer.
Demoted since the main character doesn't really struggle after a certain point and it gets kind of boring, which was disappointing given its strong start.
Wakusei Closet #
(Completed) A horror story following a girl who finds herself—physically, somewhat—on an alien planet whenever she goes to bed, and tries to help the girl she finds there. Note there is a lot of body horror, so prepare yourself.