Review: 50 Tea Recipes from the Duchess
by Rakka • Tags: review manga
What: an isekai manhwa featuring a corporate slave whose only joy is tea in all its forms and flavors.
Author: Lee Jiha / Artist: Ant Studio
Duchess Chloé Battenberg is a spineless softy at the mercy of society snobs, disparaging servants, and a cold husband. When an office worker (and recovering pushover) awakens as Chloé, she can't believe it. But she's DONE with this pity party, so let's make it a tea party! Each cup is perfectly brewed to defeat prejudices and coffee-predilections—and served with a side of business savvy—but is it enough to stir her husband and bring Chloé the respect she deserves? Come spill the tea with Chloé!
Where to Read: On Tapas (128 chapters).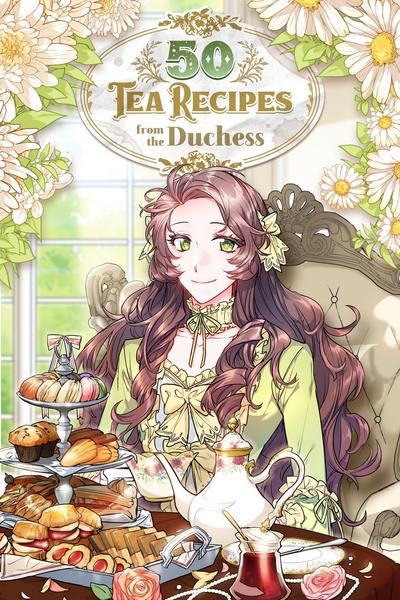 The Good:
Lots of information about tea! Different types, regions, preparations, and more are covered; even different kinds of teaware.
Art is generally cute, especially chibi faces.
The relationship setup is maybe a bit hackneyed, especially for the isekai genre, but actual progression between the leads at least saves the relationship from being boring, and both characters are likable on their own merits.
In that vein, we get to see a mutually supportive relationship that (tastefully) acknowledges that couples actually can be physically intimate.
The Bad:
Chloé is a bit of a wish-fulfillment Mary Sue who can do no wrong and is infinitely generous and patient. By the end, it starts to get rather tiring.
Consequently, any drama to advance or set up the plot feels a bit forced and unnecessary, or that it's only there to make the main character more likeable.
Worse, some extremely forced drama at the end makes a character annoying to have around and drags out the already inevitable conclusion.
Overall: 3/5. A solid read, especially if you like tea, but it doesn't quite make the bar for my recommendations.
Scale for reference:
1/5: not really worth looking into; you won't see many of these because I'll just drop it without bothering to review it.
2/5: probably not worth the time, but you may enjoy it regardless.
3/5: an average to above-average series; may be a 4/5 to fans of certain genres or themes.
4/5: a strong recommendation with some flaws or shortcomings.
5/5: a universal recommendation; one of my favorites. Not necessarily flawless, but has something extremely compelling.